Detailing and Weathering Tips
Brassmasters windows
Scalescenes have also worked with Brassmasters to develop great range of compatible fine-scale etched windows and detailing elements in both N and OO scales. A usage, quantity and installation guide is available here.
Installing Brassmasters windows
Spray paint the windows (both sides if visible on the finished model) on the fret. White aerosol model primer works well.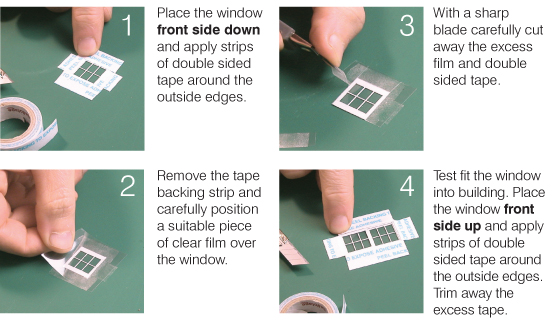 Position the windows into structure. Ensure that you don't apply the tape too far toward the centre of the windows otherwise it maybe visible when the windows are in place.
A free 'grime-covered' window sheet designed to be printed on to inkjet or laser compatible film and placed behind the etched industrial windows is available here.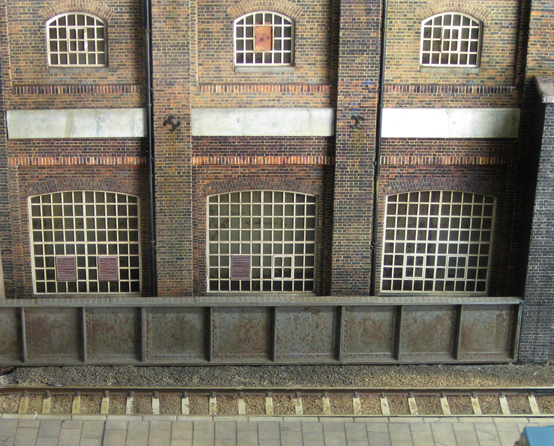 Grime
As all the textures used in my kits are photographically based, most of the surfaces are 'pre-weathered' to a certain extent, so only a light application is really necessary for most scenes.
Both weathering powders and black and brown artist pastel dust work well. A very soft make-up brush is ideal to gently work the powder into the corners where grime usually accumulates. As with all good things it's pretty easy to over do it, so build up thin layers slowly, don't over do it! Test the technique on a piece of scrap wall first.
Limescale
Limescale is always very evident along retaining walls, around tunnels and under bridges. It can be easily added by gently running a soft white pastel or chalk over the surface of the wall, carefully following a brick course. Next use a cotton bud to lightly smear the pastel down the wall. Repeat the the process a few of times in each spot to add depth and then apply a light coat of artist's spray matt varnish (shake the can well prior to application).
Streaking
Streaking can also be easily added by very lightly working blunt black and brown coloured pencils over the surface of the print in a downward motion. These streaks are then gently worked over using Tamiya Weathering Master pack B. It's another quick and easy way to 'tone down' the richness of the print surface.